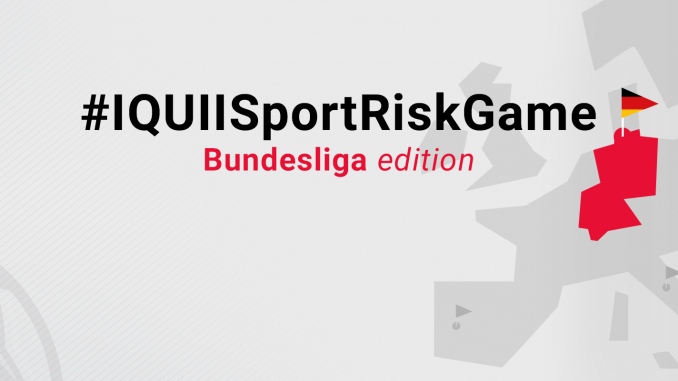 Following the latest studies on club ownership in Serie A and Premier League, IQUII Sport presents you the edition focused on Bundesliga clubs. Football in Germany is popular for many reasons: top-quality football, a high average attendance at the stadium and a great fan culture.
Bundesliga clubs ownership: the 50 + 1 rule
The latter outlines one of the most particular aspects of German football: the "50+1 rule". Imposed by the DFL (Deutsche Fußball Liga), this rule aims to prioritise the wishes of supporters over pure profit, forcing clubs to hold a majority of their voting rights (50+1 of the club's stake). Therefore, private investors are not allowed to have more than a 49% stake. Exceptions are made only for those investors who have been involved in a club for more than 20 years (before 1998).
This is a crucial topic to understand the #IQUIISportRiskGame | Bundesliga edition, which points out the country of origin of the 18 clubs competing in the highest German football division. As you can see, the 50+1 rule has a huge impact on the map, with RB Leipzig being the only club to be foreign-owned: the club founded in 2009 can be reconducted to the Red Bull company, having its seat in Austria.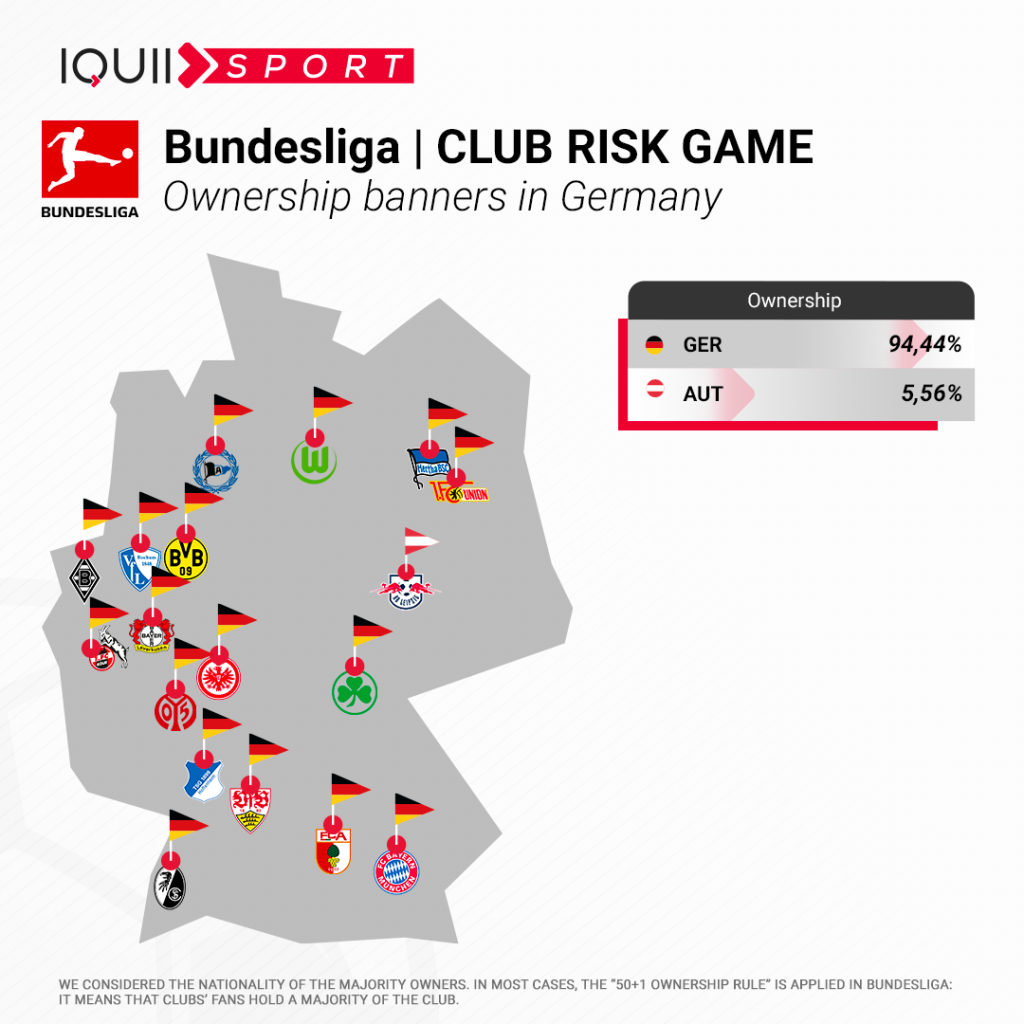 Bundesliga Club Risk Game: the ownership map
Other situations with regard to a club's ownership, such as the Hoffenheim one, are often disputed within German football. To have a complete overview of the ownership, here you can find the list of the Bundesliga clubs paired with the country of origin of the owners:

1. FC Köln: Germany

1. FC Union Berlin: Germany

1.FSV Mainz 05: Germany

Arminia Bielefeld: Germany

Bayer 04 Leverkusen: Germany

Borussia Dortmund: Germany

Borussia Mönchengladbach: Germany

Eintracht Frankfurt: Germany

FC Augsburg: Germany

FC Bayern München: Germany

Hertha BSC: Germany

RB Leipzig: Austria

SC Freiburg: Germany

SpVgg Greuther Fürth: Germany

TSG Hoffenheim: Germany

VfB Stuttgart: Germany

VfL Bochum: Germany

Vfl Wolfsburg: Germany
The #IQUIISportRiskGame will land in France, to find out the most relevant insights dealing with the Ligue1 clubs' ownership. Follow us to stay up to date on the latest news about the Sport Industry!
Metti in atto la tua Sport Digital Transformation
_____________________________________________________________________________________________________
Scrivici ora e progettiamo la tua nuova strategia di Sport Business